Domestic Abuse books donated by Haven Horizons to to TUS Library (formally LIT) in 2020 & 2021
Typology of Domestic Violence
Michael P. Johnson

Johnson argues that domestic violence is not a unitary phenomenon. Instead, he delineates three major, dramatically different, forms of partner violence: intimate terrorism, violent resistance, and situational couple violence. He roots the conceptual distinctions among the forms of violence in an analysis of the role of power and control in relationship violence and shows that the failure to make these basic distinctions among types of partner violence has produced a research literature that is plagued by both overgeneralisations and ostensibly contradictory findings. This volume begins the work of theorizing forms of domestic violence, a crucial first step to a better understanding of these phenomena among scholars, social scientists, policy makers, and service providers.
2008 · University Press of New England · ISBN 9781555536947
Invisible Chains : Overcoming Coercive Control in Your Intimate Relationship
Lisa Aronson Fontes
When you are showered with attention, it can feel incredibly romantic and can blind you to hints of problems ahead. But what happens when attentiveness becomes domination? If the desire to control leads to jealousy, gaslighting, threats, micromanaging and physical violence. If you or someone you care about are trapped in a web of coercive control, this book provides answers, hope, and a way out. Lisa Aronson Fontes draws on both professional expertise and personal experience to help you:
* Recognise controlling behaviours of all kinds.
* Understand why this destructive pattern occurs.
* Determine whether you are in danger and if your partner can change.
* Protect yourself and your kids.
* Find the support and resources you need.
* Take action to improve or end your relationship.
* Regain your freedom and independence.
2015 · Guilford Publications · ISBN 9781462520244
Violence against Women : Criminological Perspectives on Men's Violences
Nicole Westmarland
Including discussion of fifteen different types of violence against women, this book is original in offering an introduction to such a broad range of topics, and for including chapters on violences that have rarely been written about, as well as those that are more commonly discussed and those that have been side-lined in recent years. By bringing together work on violence against women committed by partners, family members, strangers, acquaintances, institutions and businesses, this book widens the lens through which we view men's violences against women.
2015 · Taylor & Francis Ltd · ISBN 9781843923985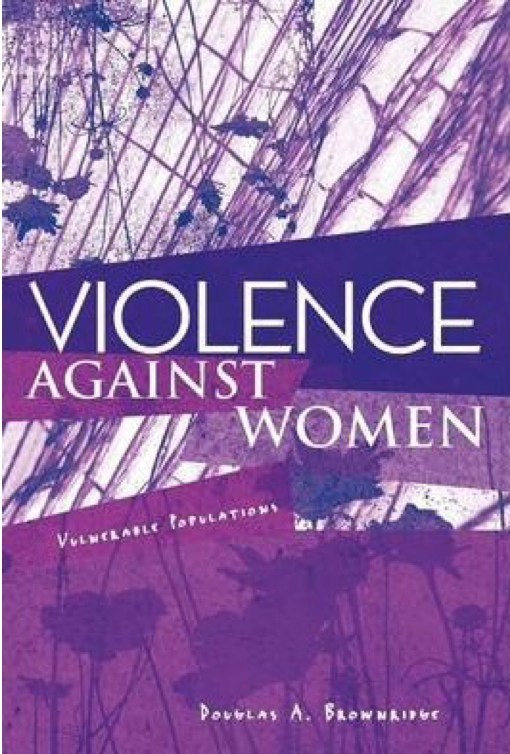 Violence Against Women : Vulnerable Populations
Douglas A. Brownridge
Violence Against Women: Vulnerable Populations investigates under-researched and underserved groups of women who are particularly vulnerable to violent victimization from an intimate male partner. In the past, there has been an understandable reluctance to address this issue to avoid stereotyping vulnerable groups of women. However, developments in the field, particularly intersectionality theory, which recognizes women's diversity in experiences of violence, suggest that the time has come to make the study of violence in vulnerable populations a new sub-field in the area.
2009 · Taylor & Francis Ltd · ISBN13 9780415996082
Look What You Made Me Do: A Powerful Memoir of Coercive Control
Helen Walmsley-Johnson
Not all abuse leaves a mark.
For more than two years, BBC Radio 4's The Archers ran a disturbing storyline centred on Helen Titchener's abuse at the hands of her husband Rob. Not the kind of abuse that leaves a bruise, but the sort of coercive control that breaks your spirit and makes it almost impossible to walk away. As she listened to the unfolding story, Helen Walmsley-Johnson was forced to confront her own agonizing past. Look What You Made Me Do is her candid and utterly gripping memoir of how she was trapped by a smiling abuser, not once but twice. It is a vital guide to recognising, understanding and surviving this sinister form of abuse and its often terrible legacy. It is also an inspirational account of how one woman found the courage to walk away.
2019 · Pan Macmillan Ltd · ISBN 9781509848751
Home Grown: How Domestic Violence Turns Men Into Terrorists
Joan Smith
What do the attacks in London Bridge, Manchester and Westminster have in common with those at the Charlie Hebdo offices, the Finsbury Park Mosque attack and multiple US shootings?
They were all carried out by men with histories of domestic violence.TERRORISM BEGINS AT HOME.
Yet, since domestic abuse often comes before a public attack, it's here a solution to the scourge of our age might be found. Thought-provoking and essential, HOME-GROWN will lift the veil on a revelatory truth.
2019 · Quercus Publishing. · ISBN 9781787476042
Why Women Are Blamed For Everything: Exposing the Culture of Victim-Blaming
Dr Jessica Taylor
Based on three years of doctoral research and ten years of practice with women and girls, Dr Jessica Taylor explores the many reasons we blame women for male violence committed against them. Written in her unique style and backed up by decades of evidence, this book exposes the powerful forces in society and individual psychology which compel us to blame women subjected to male violence.
2020 · Little, Brown Book Group · ISBN 9781472135483
Domestic Abuse books donated by Haven Horizons to to LIT Library in 2018 & 2019
Social work and domestic violence, Developing Critical And Reflective Practice
Lesley Laing, Cathy Humphreys, Kate Cavanagh
Domestic violence affects all areas of social work. This book shows how social workers can intervene in everyday practice with victims, their families and perpetrators of domestic abuse. It provides students with knowledge of theory, research and policy to put directly in practice across a variety of legal and service-user contexts.
2013 · SAGE Publications Ltd. · ISBN 9781412919234
Violence against women
Nancy Lombard, Lesley McMillan
This volume seeks to address issues surrounding violence against women at all levels, from its root causes (including looking at child abuse and coercive control) to the specific needs arising in victims of gendered abuse from a particular social or ethnic group. Drawing on the expertise of a range of 'front line' service providers and practitioners as well as academic researchers, it seeks to provide those working in social work and related professions with up-to-date coverage of the major issues pertaining to violence against women, and suggest ways to tackle the rise in violence against women by translating knowledge into effective training and practice.
2012 · Jessica Kingsley Publishers · ISBN 9781849051323
Domestic violence and criminal justice
Nicola Groves
This book aims to provide an up-to-date and comprehensive introduction to the subject of domestic violence and its interaction with the criminal justice system- including agencies such as the police, the Crown Prosecution Service, the probation service and Children's Services, the courts and the prison service, as well as voluntary agencies such as Women's Aid. The book also looks at how these various agencies work together at a local level and the coordinating role of the Home Office and the direction provided at a central level.
2013 · Routledge · ISBN 9781843928195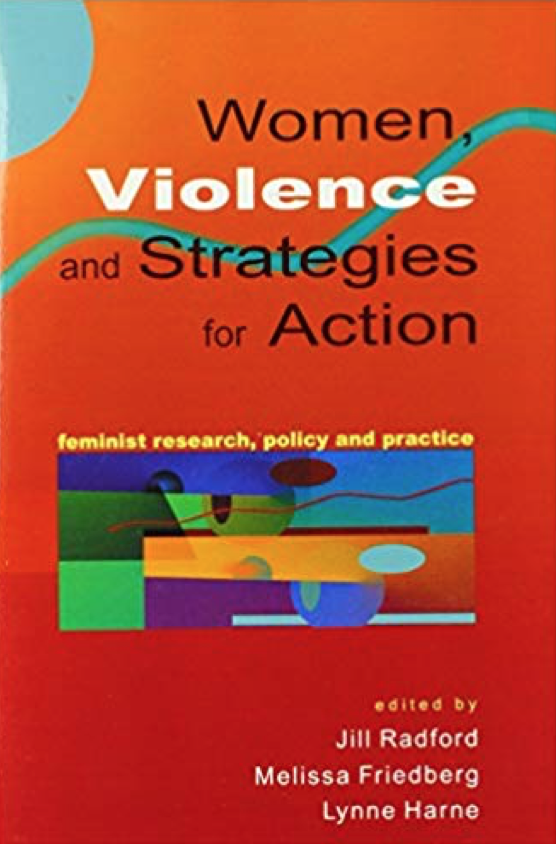 Women, Violence and strategies for action
Jill Radford, Melissa Friedberg
The book gathers together the many exciting ideas, discussions and developments arising from the work of the researchers and activists who are part of the British Sociological Association Violence Against Women Study Group. The contributing authors share a commitment to research that centres on the material reality of women's lives and assists the generation of strategies for action. It complements the earlier volume, Women, Violence and Male Power, extending the latter's coverage in important ways by addressing differences as well as commonalities between women, and the complexities of feminist analysis and activism in a changing context.
2000 · Open University Press · ISBN 9780335203697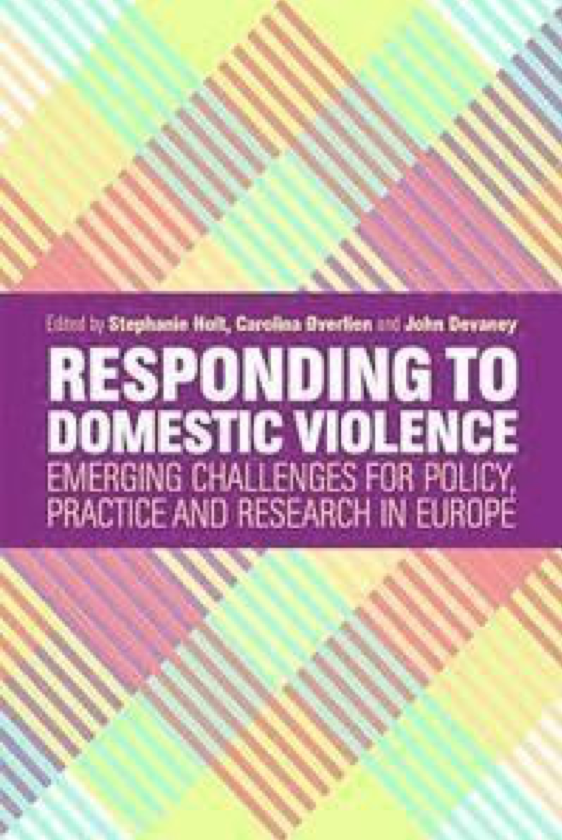 Responding to domestic violence: emerging Challenges for Policy, Practice and Research in Europe
Stephanie Holt, Carolina Overlien, John Devaney
This book describes how countries within and outside the EU are responding to the problem in policy, practice and research. Eminent academics and professionals from a range of European countries share their findings from new ground-breaking victim surveys, and weigh up the legal, social and healthcare challenges.
2017 · Jessica Kingsley Publishers · ISBN 9781785922619
Coordinating community responses to domestic violence: Lessons from Duluth and Beyond
Melanie Shepard, Ellen Pence
The `Duluth Model' is a widely disseminated approach to community-based intervention in domestic violence. This authoritative and comprehensive volume examines how to develop a response to domestic violence using the Model.
Key issues addressed include: enhancing networking among service providers; building monitoring and tracking systems; developing a supportive infrastructure for victims; providing sanctions and rehabilitation opportunities; addressing the needs of children; and evaluating the effectiveness of community response.
1999 · Sage Publications · ISBN 9780761911241
Domestic abuse, Contemporary Perspectives and Innovative Practices
Oona Brooks-Hay, Michele Burman, Clare McFeely
By illustrating contemporary research and practice in Scotland, and situating this evidence within an international context, this volume provides a valuable source of national and international knowledge for those working and studying across a broad range of sectors, including health, education, housing, social work, criminal justice, law and politics. A feminist theoretical perspective, which recognises domestic abuse as a function of gendered inequalities, is adopted as a framework for understanding the research evidence and practices discussed throughout the book.
2018 · Dunedin Academic Press · ISBN 9781780460598
Domestic Violence Perpetrators: Evidence-Informed Responses
John Devaney, Anne Lazenbatt
Domestic violence is a serious, widespread public, social and health problem that affects the lives of many women, children and men. There is also evidence to suggest it has one of the highest rates of recidivism. This comprehensive book provides an overview of what the research tells us about the perpetrators of domestic violence and what works, and what doesn't, in promoting positive change. It is collection of the most up-to-date evidence from the international literature and bringing psychological, sociological, gendered and socio-political theoretical perspectives to bear on the issue.
2016 · Routledge · ISBN 9781138016262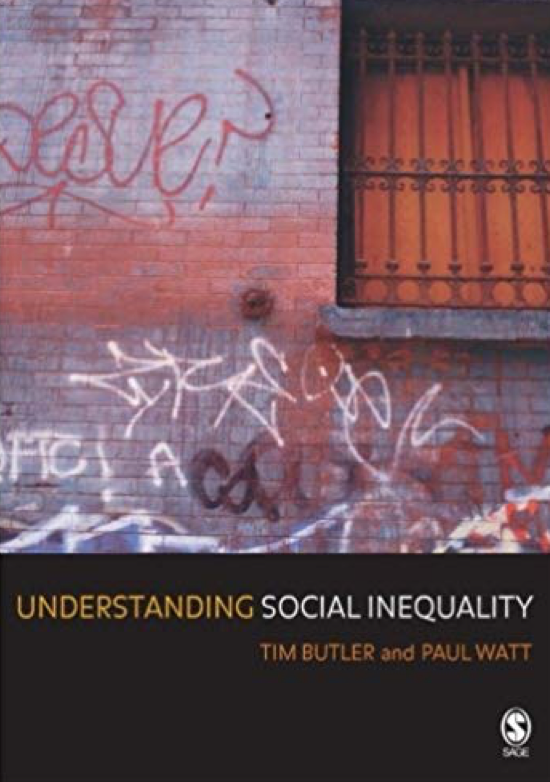 Understanding social inequality
Tim Butler, Paul Watt
"This is a book that should be read by anyone interested in class, inequality, poverty and politics. Actually, probably more importantly it should be read by people who think that those things do not matter! It provides a wonderful summation of the huge amount of work on these topics that now exists and it also offers its own distinctive perspectives on a set of issues that are - despite the claims of some influential commentators - still central to the sociological enterprise and, indeed to political life."
- Roger Burrows, University of York
2006 · SAGE Publications Ltd · ISBN 9780761963707
Domestic Abuse, Homicide and Gender: Strategies for Policy and Practice
J. Monckton Smith, A. Williams, F. Mullane
Based on research with frontline professionals and domestic abuse and homicide victims, this book argues for a re-conceptualisation of the female victim to enhance safety management and encourage a deeper understanding of the emotional dynamics and social structures which perpetuate violence.
2014 · Palgrave Macmillan · ISBN 9781137307439
The concept and Measurement of Violence Against Women and Men
Sylvia Walby
The extent of violence against women is currently hidden. How should violence be measured? How should research and new ways of thinking about violence improve its measurement? Could improved measurement change policy? The book is a guide to how the measurement of violence can be best achieved. It shows how to make femicide, rape, domestic violence, and FGM visible in official statistics. It offers practical guidance on definitions, indicators and coordination mechanisms. It reflects on theoretical debates on 'what is gender', 'what is violence', and 'the concept of coercive control', and introduces the concept of 'gender saturated context'.
2017 · Policy Press · ISBN 9781447332640
The Psychology of Criminal and Antisocial Behaviour : Victim and Offender Perspectives
Wayne Petherick
It opens up new areas of enquiry to busy practitioners and academics alike, exploring topics using a practical approach to social deviance that is underpinned by frontier research findings, policy, and international trends. From the relationship between psychopathology and crime, and the characteristics of catathymia, compulsive homicide, sadistic violence, and homicide victimology, to adult sexual grooming, domestic violence, and honor killings, experts in the field provide insight into the areas of homicide, violent crime, and sexual predation.
2017 · Elsevier Science Publishing Co INC International Concepts · ISBN 9780128092873
Women, Violence and Social Control: Explorations in Sociology
Jalna Hanmer, Mary Maynard
Violence towards women is being given an increasingly high profile in the media. Mainstream sociology, however, has yet to address it as a central issue. The various contributors to this book correct this omission by producing new research data and theoretical insights, demonstrating that violence against women is socially constructed along gender lines. The topics covered include: indecent exposure, psychosurgery, sexual harassment and the way violence to women is treated in courts of law. But this volume goes further than empirical description. It underlines the importance of male violence in the subordination of women. The chapters display the hierarchical nature of a society where gender stratification is fundamental and violence, and its threat, play a major role in the social control of women.
1987 · Prometheus Books · ISBN 9781573923361
LOVE'S LABOR - Essays on Women, Equality, and Dependency (Thinking Gender)
by Eva Feder Kittay
This fascinating study of women carers explores the significance of dependency work by analyzing John Rawls' influential liberal theory and two examples of public policy - welfare reform and family leave - to show how both theory and policy fail women when they miss the centrality of dependency to questions of justice. A vision of an equal society is required, one which recognizes that those who care for others require the support of the larger community.
1999 · Routledge · ISBN 9780415904131
Coercive Control: How Men Entrap Women in Personal Life (Interpersonal Violence)
Evan Stark
The story of physical and sexual violence against women has been told often. But this is the first book to show that most abused women who seek help do so because their rights and liberties have been jeopardized, not because they have been injured. The coercive control model Stark develops resolves three of the most perplexing challenges posed by abuse: why these relationships endure, why abused women develop a profile of problems seen among no other group of assault victims, and why the legal system has failed to win them justice.
2009 · Oxford University Press · ISBN 9780195384048