Skills Share was piloted in 2016/2017 to address the social isolation and lack of confidence experienced by some women who have lived with domestic abuse. The pilot was successful and Skills now runs in Ennis on alternate Tuesday mornings and evenings, with the support of an expanded group of volunteers.
Background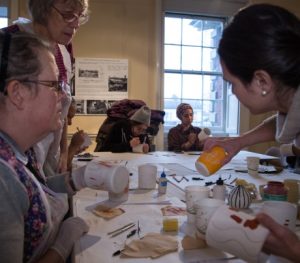 Skills Exchange previously ran in Ennis for 10 years. Women met to exchange skills and to give feedback on their experiences of learning new skills. The Skills group offered women the opportunity to expand their skills base, build confidence and to widen their social networks. The founder of the Skills group offered to support a Skills group being re-established in Ennis.
A number of volunteers supported Haven Horizons to set up a pilot skills group. The group's aims were to: increase people's skills, develop confidence, widen social networks and increase women's awareness of social, community, education, training and volunteering opportunities in their locality.
Anyone interested in joining this group please contact us for more details on:
PHONE |  087 7379813
EMAIL |  havenhorizons@gmail.com
Skills Share is supported by the Department of Communication, Climate Change & Environment –  Local Agenda 21 Environmental Partnership Fund.
Skills Share is supported by the National Lottery.