The Issue
---
"Violence against women is always a violation of human rights; it is always a crime; and it is always unacceptable. Let us take this issue with the deadly seriousness that it deserves."   Ban Ki Moon, United Nations Secretary General 
About Us
---
Haven Horizons is a voluntary organisation dedicated to ending violence and abuse against women and children. We focus on prevention activities: awareness, education, research, collaborative partnerships and piloting international best-practice models. See more
Our Work 
---
Accredited Education Programmes 

 
Haven Horizons and the Technical University of Shannon (TUS) developed the first domestic abuse and coercive control Level 6 accredited training programme in Ireland. 
The 12-week programme, 'Reflecting on and Responding to Abuse and Coercive Control' is delivered online to frontline professionals including: Gardaí, domestic abuse service providers, social workers, probation officers, courts service personnel, social workers, survivors' representatives, social care personnel, educators, and community-based organisations.  See more
National

 R

esearch 

and Knowledge Centre

(Gender-Based Abuse)
The Research and Knowledge Centre is a collaborative initiative of Haven Horizons and the Technical University of Shannon (TUS), funded by the Irish Research Council's New Foundation programme. The national centre of excellence will promote engaged research and effective research translation by facilitating collaboration between academics and practitioners, informing policy, practice and legislation, ultimately contributing to a reduction in the incidence and impact of gender-based abuse in Irish society. See more
Systems

 

C

hange

 –

 

Safety and Accountability Audit 

&

 

Blueprint for Safety 

 
Haven Horizons is working in collaboration with Praxis International (St. Paul, MN) to establish a demonstration site for a 'safety and accountability audit' and the 'Blueprint for Safety' in Ireland. The Safety and Accountability Audit and the Blueprint for Safety find and fix the gaps in the justice systems' response to domestic abuse crimes. They put a laser focus on victim safety and perpetrator accountability at every single step in the processing of domestic abuse crimes – changing attitudes, reducing harm and saving lives. See Blueprint For Safety Overview video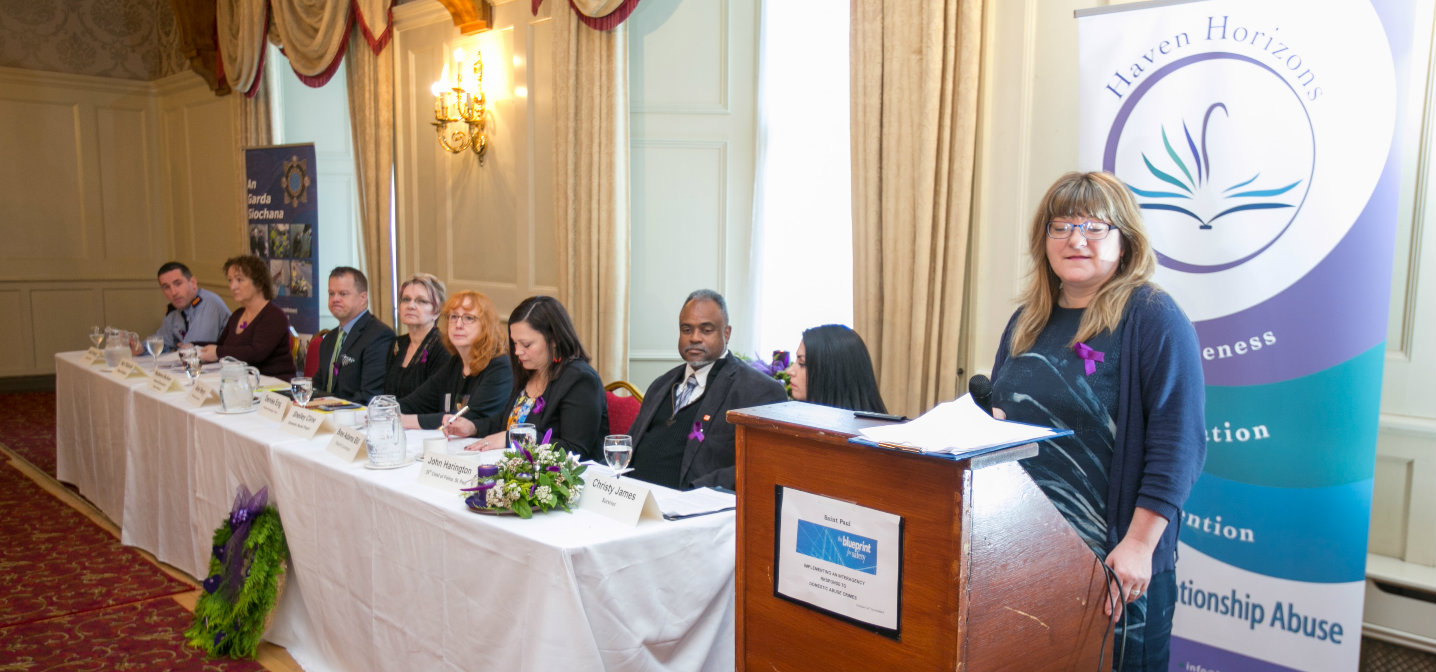 Awareness 

Raising 

– Books and e-Book 

donations to Libraries Ireland

 
Over the last three years, we selected, purchased and donated a wide range of books and e-books on domestic, sexual and gender-based-abuse to Libraries Ireland. These books can be accessed at any library branch in the country. The Library Service has created a new gender-based abuse e-shelf. See more
Principles – Our work is informed by: 
---
A commitment to Zero Tolerance

 on violence and abuse against women and children

 

The recognition that violence and abuse against women and girls is unacceptable, a violation of human rights and a crime 

 

Evidence-based research, survivors' experiences and collective action

 

The need to challenge and 

transform the societal attitudes, beliefs, behaviour and individual and organisational practices 

that tolerate and condone abuse and violence against women and girls. 

 
Membership
---
The National Women's Council Ireland,

(

NWCI

)

The National Observatory on Violence Against Women,

(

NOVAW

)

The Association of Criminal Justice Research and Development,

(

ACJRD

)

Public Participation Network (PPN) representative on the Clare Joint Policing Committee
Clare Local Area Network (CLAN)
International recognition 
Grand Circle, US Foundation – selected as Irish Charity - student bursaries for the Level 6 programme  
Femmes D'Europe – nominated as Irish Charity 2021 -  laptops for students & books donations to national library service. 
Solution-Driven Approaches to Lasting Change