The Issue
---
"Violence against women is always a violation of human rights; it is always a crime; and it is always unacceptable. Let us take this issue with the deadly seriousness that it deserves."   Ban Ki Moon, United Nations Secretary General 
About Us
---
Haven Horizons is a voluntary organisation dedicated to ending violence and abuse against women and children. We focus on prevention activities: awareness, education, research, collaborative partnerships and piloting international best-practice models. See more
Our Work 
---
Light on the Horizon - new book
Light on the Horizon is the inspiring story of two women who said no to domestic abuse and of an entire community that walked that journey with them.  
This book tells the story of how small acts of compassion ignited an enduring community response to relationship abuse. Drawing from the archives and the recollections of those involved in this remarkable project, Light on The Horizon charts the evolution of the charities, Clare Haven Services and Haven Horizons. Recording the social changes over thirty years and challenging the silence and tolerance around relationship abuse, this collection celebrates a community's positive impact on the lives of women and children.
 The book can be ordered via this link.  
"Light on The Horizon is a must-read book telling the gripping story of a group of women motivated to change lives, educating us on how to tackle domestic abuse based on cutting-edge research and in the process dismantling the myths that surround domestic abuse." Sarah Harte, writer and solicitor.
"Haven Horizons had the vision to bring together academics and practitioners in the field of gender-based abuse to influence real societal change". Professor Vincent Cunnane, President of TUS.
" Inspirational and the embodiment of the volunteering spirit, reponding to a need in the community, making a real difference in people's lives". Nina Arwita, CEO Volunteer Ireland.
---
National

 R

esearch 

and Knowledge Centre

(Gender-Based Abuse)
The Gender-Based Abuse Research and Knowledge Hub is a collaborative initiative of Haven Horizons and the Technical University of Shannon (TUS), funded by the Irish Research Council's New Foundation programme.
One of the outputs of the Hub is the researchgba.ie website, established to:
promote engaged research and effective research translation in domestic, sexual and gender-based abuse

facilitate collaboration between academics and practitioners

allow for knowledge transfer from research that informs policy, practice and legislation

contribute to a reduction in the incidence and impact of gender-based abuse in Irish society
The website now hosts a database of Irish researchers and research topics. It will also facilitate networking opportunities for national and international researchers seeking to develop partnerships for future gender-based abuse collaborative proposals and research projects.
If you are a researcher or a practitioner in the field of domestic, sexual and gender-based abuse and you would like to create a profile on the website please use this link.
Online conferences
Enhancing Engaged Research and Research Translation in the Field of Domestic, Sexual and Gender-Based Abuse (30th November 2021). Watch here.
Best Practice in Engaged Research and Research Translation in the field of Domestic, Sexual and Gender-Based Abuse (10th June 2022). Watch here.
---
Accredited Education Programmes 

 
Haven Horizons and the Technical University of Shannon (TUS) developed the first domestic abuse and coercive control Level 6 accredited training programme in Ireland. 
The 10-week programme, 'Reflecting on and Responding to Abuse and Coercive Control' is delivered online to frontline professionals including: Gardaí, domestic abuse service providers, social workers, probation officers, courts service personnel, social workers, survivors' representatives, social care personnel, educators, and community-based organisations.  See more
---
Systems

 

C

hange

 –

 

Safety and Accountability Audit 

&

 

Blueprint for Safety 

 
Haven Horizons is working in collaboration with Praxis International (St. Paul, MN) to establish a demonstration site for a 'safety and accountability audit' and the 'Blueprint for Safety' in Ireland. The Safety and Accountability Audit and the Blueprint for Safety find and fix the gaps in the justice systems' response to domestic abuse crimes. They put a laser focus on victim safety and perpetrator accountability at every single step in the processing of domestic abuse crimes – changing attitudes, reducing harm and saving lives.
See Blueprint For Safety Overview video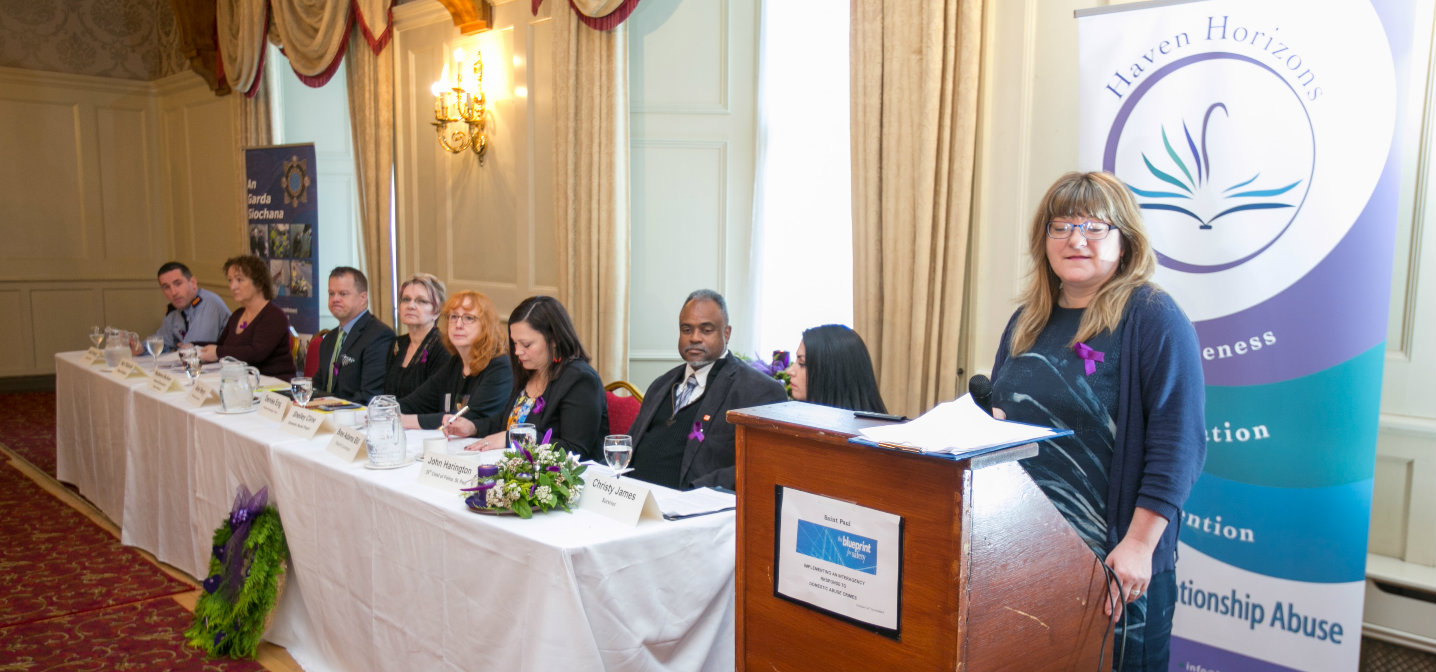 ---
Awareness

Raising 

– Books and e-Book 

donations to Libraries Ireland

 
Over the last three years, we selected, purchased and donated a wide range of books and e-books on domestic, sexual and gender-based-abuse to Libraries Ireland. These books can be accessed at any library branch in the country. The Library Service has created a new gender-based abuse e-shelf. See more
Principles – Our work is informed by: 
---
A commitment to Zero Tolerance

 on violence and abuse against women and children

 

The recognition that violence and abuse against women and girls is unacceptable, a violation of human rights and a crime 

 

Evidence-based research, survivors' experiences and collective action

 

The need to challenge and 

transform the societal attitudes, beliefs, behaviour and individual and organisational practices 

that tolerate and condone abuse and violence against women and girls. 

 
Membership
---
The National Women's Council Ireland,

(

NWCI

)

The National Observatory on Violence Against Women,

(

NOVAW

)

The Association of Criminal Justice Research and Development,

(

ACJRD

)

Public Participation Network (PPN) representative on the Clare Joint Policing Committee
Clare Local Area Network (CLAN)
International recognition 
Grand Circle, US Foundation – selected as Irish Charity - student bursaries for the Level 6 programme  
Femmes D'Europe – nominated as Irish Charity 2021 -  laptops for students & books donations to national library service. 
Solution-Driven Approaches to Lasting Change